Discover the underwater treasures of Cozumel
in your own mini-submarine!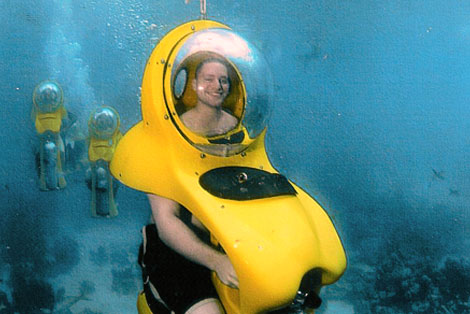 Mini-Sub
This extremely unique Cozumel Minisub Dive Tour excursion is one you'll never forget!
After a safety and instructional briefing, you'll climb into your state-of-the-art mini-submarine and explore some of the most beautiful reefs in the area at a depth of 15-20 feet. Guided by a professional dive master, you will see amazing sea life and coral formations.
Marvel at this strange new world as you steer your submarine to fascinating sites during your 30 minutes underwater. The submarines are very easy to operate, with no prior experience required.
After your submarine exploration, return to the pier. Glasses can be worn during the excursion.

DRESS CODE:
We recommend wearing a bathing suit under comfortable clothes and comfortable walking shoes. Sunglasses, sunscreen (biodegradeable) and towel are recommended.

RESTRICTIONS:
Minimum age is 12 years old to participate and be a minimum of 4 feet tall.
Maximum age is 65 years old and maximum weight is 300 pounds.
Anyone suspected of being under the influence of alcohol will not be allowed to participate.
Participants who have had recent (within 2 years) surgery, or suffer from back/neck injuries, asthma, epilepsy, insulin dependent diabetes, heart problems, claustrophobia, and pregnant women will not be allowed to participate in this tour.
Participants can not fly on the same day as the excursion.